Academic Programs - College of Nursing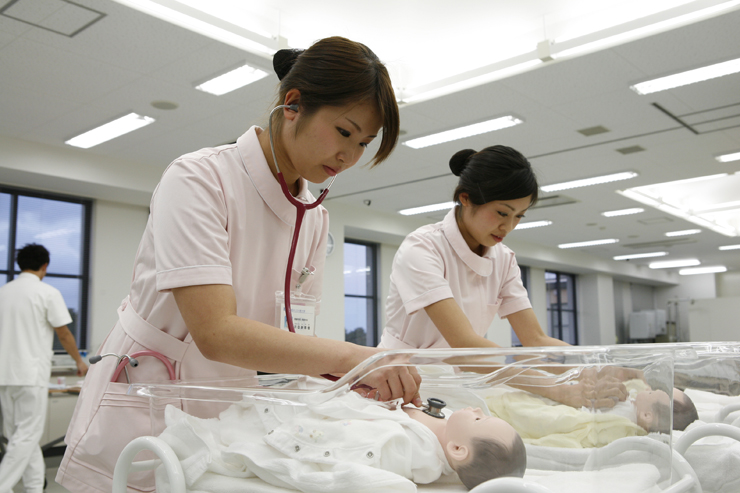 Our society has diverse nursing needs in various places. Some needs arise from healthcare reform due to changes in social structure, some from medical institutions performing advanced treatments and surgeries, and some from the addition of facilities for the elderly with chronic symptoms. The College of Nursing offers many practicums and courses which can be completed in four years, enabling graduates to respond to those various current needs. We seek to nurture excellence in students, not only as highly trained medical staff but also as sensitive and caring human beings.
Department of Nursing
With a basic philosophy of respect for human rights and human love" the department fosters graduates who are able to effectively assist in dealing with health problems and health care, using high standards in information, skills and ethics. The reality and mechanisms of social inequality of healthcare are also studied in order to produce healthcare specialists who understand the characteristics of regional communities, and, at the same time, can become agents of change to make a better world through improvements in health care.
Introduction of Basic Classes
| | |
| --- | --- |
| Scientific Thinking Seminar I (Approach to Nursing Science) | Mental Health |
| Early Nursing Training | Support Technology Theory I ・ II |
| Home Nursing Training | Health Risk Management Theory |
| Child Care Theory I | International Nursing Theory I |
Facilities ・ Practicum
Training Room

Training Room

All the medical equipment nurses use at hospitals are in this room, giving students the opportunity to become familiar with them.

Training Room

Students learn techniques in obstetrics, gynecology, and pediatrics through using the latest medical equipment.

Hospital Internships

Students intern at two major hospitals in this area: Mito Red Cross Hospital and Hitachi Hospital.