A Message from the Chairman of the Board of Trustees
---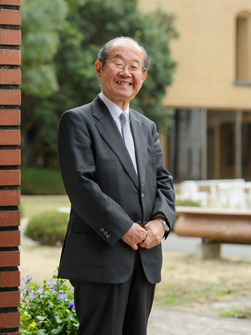 Noritada Hosokawa
16th Chairman of the Board
Ibaraki Christian University

As Ibaraki Christian University prepares to celebrate its 70th anniversary, it seems to me that each building, each tree bears the weight of history. Even though I have been chairman of the board for less than four years, I have developed a great attachment to this beautiful campus. I am appreciative of the talent of our faculty, administrators and other workers. I feel pride as I think about the current student body as well as the alumni. The history and progress of Ibaraki Christian University shows God's love. He has guided us to success. I am also thankful for the efforts and dedication of our founders and predecessors.
We do not wish merely to celebrate the 70th anniversary. We do not want to limit our focus to the past. We must keep going forward with our dreams. We must set our sights on the future. Let us determine to make our 80th and even 100th anniversaries milestones of achievement as well.
What are our dreams and visions for the future of Ibaraki Christian University? Perhaps various members of our community will have slightly different responses to this question. Nevertheless, I think all of us can agree on continuing the Educational Philosophy which was established 70 years ago, "For no other foundation can anyone lay than that which is laid." (I Corinthians 3:11)
Over 70 years ago, our founders prayed to God and articulated their purpose to society: "Establishing an institution here where academic education is the highest quality and at the same time is pleasing to God." This is the foundation of our institution. They not only prayed for the realization of their dream, but they actually worked diligently with many colleagues. This original foundation was built on their prayers and their sweat. Today, we remain proud of their commitment.
Our Chancellor, Jim Batten, referred to the goal of the community as "a dream" in his message. I share his sentiments. At the same time, I also want to hear the approbation of employers who will say, "I want IC graduates to be around me because they are the most talented people whose very presence is inspirational." We are cultivating students who will lend competence as well as a sense of "servanthood" to the workforce.
We must strive to make this dream a reality. We understand that our task and vision are not easy. In the context of the Japan's declining birthrate, IC must compete for the best applicants. We must maintain a high standard for education, for research, and for student services. Above all, our community must maintain a positive relationship with all who come into contact with us. To realize this we should practice the following:
Perform each task (research, education, office work) with love.
Respect the values of others (even when they differ from our own).
Continually seek for true peace, starting with our own lives.
Through these actions, Ibaraki Christian Education Community will realize our dream as expressed in the Educational Philosophy.
In the Mount of the Lord it shall be provided. (Genesis 22:14)

We are blessed that there are many people who wish to study at IC now, and various local communities have expressed desire to work with us. I believe that God will help us make our dream come true when we stand on the principles of our foundation and commit ourselves to achieving the goal. We acknowledge the abundant blessings God has bestowed on our university.
We also ask for your continuous support for the IC community, as we move toward better and greater service.
September 1, 2016
Noritada Hosokawa