A Message from the President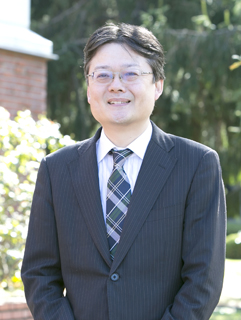 Ibaraki Christian Education Community, based on Christian principles, was established in 1947. The following year Ibaraki Christian Junior College was formed. With the same spirit of Christian liberal arts education, Ibaraki Christian College of Literature was established in 1967. In 2000 the College of Life Science was added, then in 2004 the College of Nursing, and in 2011 the College of Business Administration was added. Since that time we have made every effort to strengthen our overall university programs. Graduate schools were also established. In 1995 the College of Literature set up two graduate programs, then in 2011 the College of Life Sciences and the Nursing College both set up graduate programs. Our institution of higher education is seeking to answer the needs of our community. We also have two pre-school and kindergartens, a junior high school and a high school under our umbrella. As a comprehensive school we are, based on the Christian concept of "loving our neighbor," constantly seeking to give a well-rounded education to our students.

"Loving our neighbors" is a concept we use when we say "Living Together" or sharing our lives. The triple disaster in Eastern Japan in 2011 took many lives and left behind numerous difficulties, many with which we are still contending. Even immediately after the disaster, in this stressful situation, our students have been active in volunteer activities. I am very proud of the spirit of assistance that our students have shown in working with people in their own communities and elsewhere, and believe this clearly shows they are carrying out the neighborly love that we hold to be so valuable.

Recently, while actively interacting with our community, we are also becoming more and more cognizant of our global responsibilities. From the beginning, our institution has stressed English education. We have worked at sending our students to schools in English speaking countries as exchange students, and have also welcomed many native English speakers to our campus. In the 21st century we have added programs to sister schools in other countries, especially Asian countries, and expanded our own and our students' world view. In our expanding global society, I believe we must be careful not to fall into a narrow-minded, skewed nationalism, but continue the "Living Together" approach as we relate with those around us.

In order to become a university which is trusted both in the community and on a global scale, what must Ibaraki Christian do? First, we must provide a high quality education. One of the qualities of our school is the closeness of the relationships between students and faculty and staff. In order to help each of our students grow in various ways, we must provide this education through intimate and caring communication. Another of the good qualities of our school is the excellence of assistance provided by our Career Support Center. The staff work carefully with each student in order to help them come ever closer to their dream job, and support them in every way possible.

We commit ourselves to continuing the development of our "Living Together" philosophy, and strengthening our institution as we work toward our 50th anniversary. A place where students and faculty and staff work together, where the school and the community work hand-in-hand, where local and global societies mesh in unity…that is Ibaraki Christian University.

Hiroshi Shoji
President, Ibaraki Christian University