The Establishment of Ibaraki Christian High School and Ibaraki Christian Junior High School
Our school was established when Japan was in the throes of post-war depression.The first school charter stated the purpose of the school as an institution of learning to develop students to rebuild Japan and make positive contributions to the world in which we live. Wiith that spirit the high school was established in 1948 and the junior high in 1962. Since that time both have sought to fulfill the lofty goals of helping students attain the knowledge, wisdom and spiritual strength to make their positive contributions to this ever expanding global society.
Our society has drastically changed in the past 60 years. But those changes have made it even more important and imperative to do what our predecessors attempted to do. In this world of instantaneous communication and constant crossing of cultural and social borders, our students need ever greater knowledge, wisdom and strength to live fulfilling and positive lives. We are committed to fullfilling these goals.
Balanced Education based on Christian Principles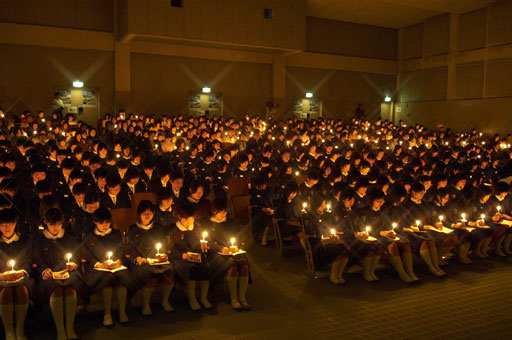 Students learn the value of self and how to live through the study of Christian approaches to life. They can find out the meaning, purpose and joy of their lives by turning their attention to the wide world and to the all-encompassing love of Christianity. Admitting and accepting each other and living together, they can also learn the beauty and the abundance of human society.
Students start every school day with morning devotionals. At the beginning of the day, they take time for looking within themselves, expressing thankfulness in their lives in silence and praying for a fulfilling day.
"Bible Class" is required once a week for all students. Students are encouraged to relate the Bible story to their personal life style. This helps students develop their own personal views of life.
Lecture presentations regarding Christianity are held every year, inviting Christian speakers from all over the world. Listening to their experience and stories, students learn situations now in the world, and they come to think about what they can do for society and have chances to think about their future, including what kind of job they want to find.
The most impressive event is "Christmas Worship." Anybody can attend, and all of the audience celebrates the birth of Christ and prays for world peace.
International Education based on Christian Principles
From the beginning of the school, preparing for the ever increasing international community has been a strong emphasis. Thus English education is an important pillar in our educational philosophy. Studying English for TOEIC and STEP is in the curriculum. Our school has a reputation for its strong emphasis on English. We are proud of the programs and practical accomplishments made by the native English speaking teachers on our staff.
| | |
| --- | --- |
| | |
| ICHS Exchange students at Abilene Christian, Abilene, Texas, USA | ICJHS Exchange students in Australia |


A Six Year Program
From 2004 Ibaraki Christian High School and Ibaraki Christian Junior High School started a six-year program which would allow the students to go through junior and senior high in one program that was focused on developing the complete person. In this world of constant change and international unrest, our hope is to help our students understand the world in which they live, and interact with it in such a way as to be a positive influence.