Academic Programs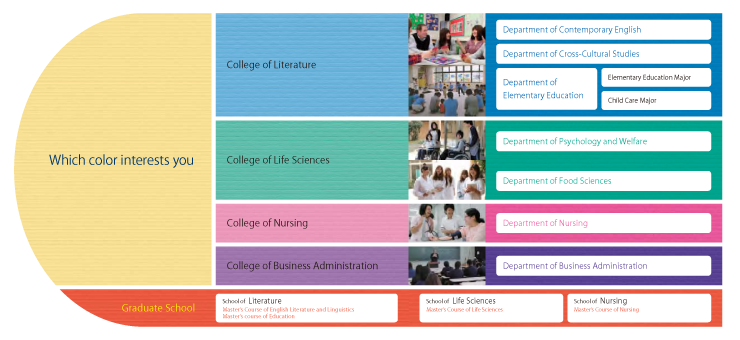 General Education Coures
We offer general education courses that are open to all the students who study at IC, in order to give them a balanced and complete education. It has been our aim and tradition to give our students a good English education. Since we are now living in a world where many cultures mix, we are trying to provide our students with an even better education by including various languages and exchange programs. Health and sports courses help students learn how to take care of their bodies as well as give them practical exercise. Students can hone their basic computer knowledge and skills in computer courses. The phrase "Life Together" has been used the past few years to express our school's basic spirit of mutual assistance. We seek to develop this spirit through a required Introduction of Christian Thought and Culture course. We believe that individuals can enrich their minds and lives through the careful study of Christian approaches to life and death.
Curriculum
Courses
Students choose courses from General Courses, Basic Courses, and Specialized Courses. General courses make up the core of a liberal arts education. These core studies are required. Basic courses are set by each college. These courses introduce the chosen field of study. Specialized courses train students in specific and necessary knowledge and skills for their majors.
Classes
Classes generally meet once a week for 90 minutes, 15 times per semester.
Minimum Requirements for Graduation
College of Literature: 124 credits
College of Life Sciences, Department of Psychology and Social work: 124 credits
College of Life Sciences, Department of Food Sciences: 128 credits
College of Business Administration: 124 credits
College of Nursing: 124 credits
Seminar
In some departments seminar classes start from the freshman year. They are small classes, which help students deepen their understanding of the process of learning as well as the content of their major. Students learn how to carry on academic discussions and how to give effective presentations. There are special thesis courses open for nursing major students in their senior year.